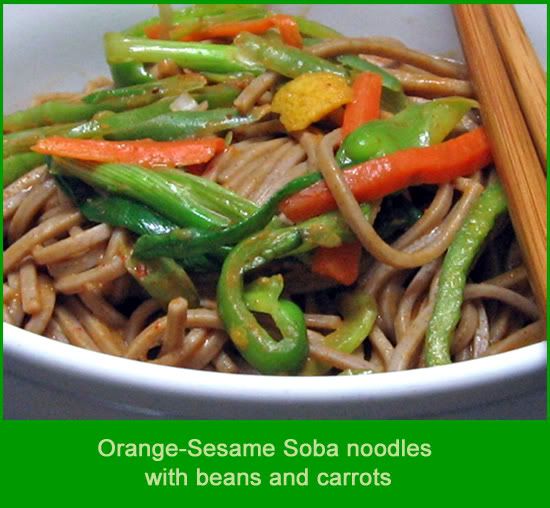 There are some recipes that the minute you lay your eyes on them, you know it's going to taste great. And you can't wait to make it and taste it yourself. This was one such yummy recipe that I came across in
Prevention magazine
a couple of months ago. It featured soba noodles, which I had in the pantry; peanut butter which I had just made a bottle of; fresh oranges for the dressing and there was nothing to stop me from trying this one out.
The result was so delicious that the hubby and me lapped up the noodles with our chopsticks in pin drop silence, except for the 'hmmm this is good' every two minutes. If you don't have soba noodles, try this out with any sturdy noodles, because the dressing is to die for.
---
Recipe for
Soba noodles in a sesame-orange-peanut butter dressing
Category : Asian cuisine, Vegetarian Asian, One dish meal
Serves : 2
Time taken : Under 20 minutes
---
Noodles
2 portions soba noodles (about 250 gms)
Cook the noodles as per directions,remove and rinse in cold water and drain. Keep aside.
For dressing, in a jug, whisk together :
3 tbsp smooth peanut butter
2 tbsp toasted sesame oil
3 tbsp soy sauce
1 tbsp grated ginger
2 tsp finely grated orange zest
1/4 cup orange juice
1/4 to 1 tsp red chilli powder
(Have a taste of the dressing to adjust the salt depending on the salt in the soy sauce. It's quite addicting. I must have taken several licks of this :)
Vegetables
Lightly steam 1 cup julienned beans and thin carrot sticks from 2 medium carrots OR Microwave for 3 minutes with pinch of salt and sprinkles of water.
Bringing it together
In a large bowl, toss the noodles with the steamed vegetables. Pour the dressing over the tossed noodles and toss well to coat evenly.
Top with diagonally sliced spring onion greens.
Serve warm or cold. You can prepare this in advance and serve it the following day so that the noodles can absorb all the flavours of the dressing. This kind of combination was very new to me, and the orangey-peanut butter dressing is something I want to make again very soon.
---
Weekend Breakfast Blogging # 21 is being hosted at 100% Microwave cooking and the theme is Microwave Breakfasts. Last date for entry is 30th April, 08. Event details
here
.
After I lost all the matter on the sidebar widgets, I've prepared an exclusive
WBB Archives & Updates page
- which links up to all the previous 20 editions, plus who's hosting next etc. Anyone who is interested in hosting, please leave a comment on the WBB page and I shall get back to you soon.
---
Tags: