Indian food isn't the same as BALTI cuisine. Born and brought up in India and staying here nearly all my years, I haven't heard of this term 'Balti' ever. Imagine my shock on landing in the US and seeing Balti this and Balti that as a part of the menu in the so-called Indian restaurants. I realised later that Balti was Bangladeshi cuisine but was merged into Indian cuisine so that it could easily partake some of the limelight. With due respect to all cuisines, it is hurtful when someone tries to club the whole nine yards of glorious Indian food into something Asian or
Middle Eastern
or Oriental.
When Rihanna of Garlic Breath from France wrote to me about her totally
Indian Thanksgiving menu
, I was so thrilled. Just like how excited we are to hear someone else speak our mother tongue, it is exactly that elation I experience when I see Americans, Europeans and so many others take an avid interest in Indian cuisine.
Barbara
,
Emma
and
Susan
, are some of those wonderful people who aren't afraid of the variety of Indian spices. On the contrary, go all out and embrace the various colours, flavours and textures of the great Indian food fabric. Food blogs have made it so convenient to get straight into the kitchens of the world and take a page out of their family traditions of food.
I can't imagine a more diverse cuisine where a single country's cuisine is sub divided into some 20 other varieties, each one as dissimilar as chalk from cheese.
This simple vegetable side dish is dedicated to all the people of the world who are totally in love with Indian food.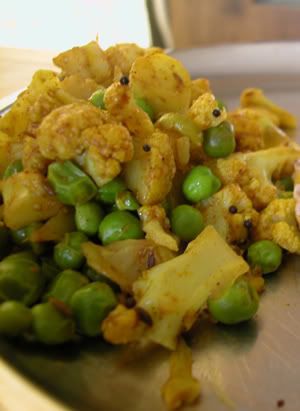 Gobhi-Mutter
Cauliflower and peas sauteed in Indian spices
Time taken - 20 minutes
Category - Indian vegetables, Side, Low fat, Antioxidant rich
---
Ingredients
1/2 tsp of mustard seeds and cumin seeds
4-5 cloves garlic, mashed
300-400 gm Cauliflower cut into small florets - stems discarded
Handful of fresh green peas
Pinch turmeric powder
1/2 tsp red chilli powder
1 tsp coriander cumin powder (can use curry powder)
1/2 tsp
garam masala
1/2 tsp or more salt
1-2 tsp of cooking oil
Putting them together
Wash the cauliflower florets thoroughly in salted water and drain. Keep aside.
In a kadai / wok, take 1-2 tsp of vegetable oil. Splutter the mustard and cumin seeds. Throw in the mashed garlic, saute for 30 seconds. Don't brown / burn it.
Put in the florets and green peas, along with the spices and salt. Cover the wok with a fitting deep dish (thali) and pour a cup of water over the dish. This will dry cook the vegetables without adding water into the wok and the steam generated will also keep them from sticking to the bottom of the wok or burning.
After 10 minutes, carefully lift up the covering dish with a pair of tongs and check if the veggies are cooked. 10 minutes are enough for the dish to be cooked well, if the vegetables are fresh.
Check for salt and remove into a bowl. You may garnish with finely chopped coriander leaves.
Serve hot with chapatis or as a side dish with meat.
~~~~~~~~~
This is I'd put together for you at Saffron Trail for a totally Indian Christmas
Whet your appetite with
Masala Mor
(spicy buttermilk).
Start with the crunchy, delicately flavoured C
arrot Peanut salad
.
Serve rice cooked in a stock flavoured with Indian spices like cinnamon, clove and star anise along with the bold
Lasooni Dal Palak
(Garlicky Lentils with spinach).
End your meal with a distinctly South Indian food-for-Gods kinda
Cashewnut Payasam
(Sweetened milk with cashewnut paste).
Tags: Indian cuisine, Christmas menu, Cauliflower, Indian curry, garam masala, gobhi mutter, fresh green peas, vegetables, Indian Christmas
Some related interesting links -
Discovering Indian cuisine
Demystifying Indian cuisine
Indian cuisine cookbooks
And then something to laugh about
here
.
A good cup of Masala chai felt like bliss in this slightly chilly December afternoon, while I was writing this post.