Finally, I've managed to push myself hard enough to post the round-up of WBB#5 and reveal the new rules for the Weekend Breakfast Blogging game.
WBB turns monthly instead of fortnightly. Three main reasons -
Fortnighly was too confusing for most. Which fortnight?

Gives me more time with the round-ups

Now on, WBB will be based on themes- making it once a month, gives you more time to think of innovative stuff which others will learn from. This is mainly an idea-sharing platform. While we all have our favourites, events are a good learning experience. If you racked your brains to find out the best way to bake with whole wheat flour, then others can save time by just following your method. Get my point?
The theme for WBB# 6 is : A twist in the plate
Take any popular recipe either from a recipe book, internet recipe resource or a fellow blogger's recipe and do your own twist on it. By twist, I mean a real good one. Not like substituting baking soda for baking powder or green chillis with red chillis. I don't know if this is very good an example, but take it for starters: Podi Idli with Mushrooms and Onions
I still don't have anything in mind too. But I believe it should be fun. Your twist should have made quite a difference to the original. Common my cook sisters and brothers, put on your hats and think out of it!
You have all the freedom to steam, saute, fry or bake - so the options are pretty much endless.
The regular details:
Do write a line or so about the original recipe in your post.

Send in your entries to me at

saffrontrail@gmail.com

by

29th of October

(Sunday) which gives over a month's time.

Your mail must have the URL of your blog and the permalink of the recipe.
WBB# 5 Round-Up

Off the skillet
Banana Pancakes - Laura, Laura Rebecca's Kitchen
A quick run through the ingredients tells me I have them all at home. With me spending this weekend, home alone and probably a gal pal for company, I don't think there much coming in the way between me and these pancakes.
Cauliflower Paratha - Sushma, Recipe Source
Sushma gives step by step instructions to make cauliflower stuffed bread. Instead of eating the rotis with cauliflower subzi, this would be a fun and practical way, especially on road journneys. Especially so, if you don't have eateries like 'Happy da dhaba' on the way!
Aapam with potato curry - Maheshwari, Beyond the Usual
Yeasty rice flour crepes with potatoes, they make them with toddy too...I'm gonna taste the latter when I go to Kerala..


Didir dosa - Vaishali, Happy Burp
She's been on a pantry emptying spree and how! If you've never made dosa before, this is the one for you. Just go for it!

Oven Fresh...

Banana Nut muffins - Priya, Akshayapaatram
The soft-toy lover baked muffins for the first time and can we hear her scream YAHOO? She crossed two bloggers' recipes and came up with this fantastic bunch of muffins

Bruschetta with egg mayonnaise - Pam , Posie's Place
Slices of fresh bread are smothered in olive oil and grilled in the oven. A simple topping like chopped boiled egg with light mayo makes it so homely and so appealing.

Banana nut muffins - Shaheen, Malabar Spice
Bananas flavoured with cinnamon and nutmeg, you can't go wrong there Steamed ( or cooked) to perfection
Golden goodness frittata - Ashwini, Food for thought
Cross veggies, eggs and herbs with an oven and what you get is this Golden goodness frittata. It's the 'phoren' version of our omlette. Did you know Parsis have their own thick omlette called Akoori?

Carrot Loaf - Krithika, Manpasand
Wholewheat flour and carrots aka- a healthy start to your day.
Pumpkin raisin muffins - Prema, My cookbook
Hearty muffins made with pumpkins. Meeta's FMR event with Pumpkins sent everyone scurrying after pumpkins well before Halloween :)

Steamed (cooked) to perfection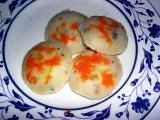 Polenta Idlis - Vaishali, Happy Burp
V gives us a double burp with dosas as well as idlis. WAIT! Don't start yawning at the mention of idlis! Bet you'd never have tried making idlis with cornmeal.

Instant Dhokla - Yours truly
Healthy yet very tasty, the power of gram flour revs up your engines for the day (Now don't you start thinking of something else! )
Ghugni - SP, Chatpat food
This recipe with a musical name has its origins in the East of India. Made with dried yellow peas, it comes across as a versatile dish.
Stuffed Idlis - Shilpa, Aayi's recipes
What do you get when you cross an idli with a masala dosa? Check Shilpa's recipe to find out. Potatoes are the friendiest of veggies, as in they get along well with anything else. I must try this one out soon!

Rava Idli - Jayashree, Veggie Delight
If you are tired of running after MTR Rava Idli packs in the grocery store, try this one from the scratch. Contrary to what we think it's quite a simple one.
From the waffle iron



Asha from Foodie's Hope sent in her Pumpkin waffles after I'd just posted the round up. Pumpkin and cinnamon in waffles does sound like a very aromatic combination. If you have a waffle iron, this one is a must try. For those who don't have a waffle iron (like yours truly), making pancakes with this batter sounds like a great idea!








(Too many problems with blogger while doing this round up taking me over 3 hours. Sorry if you see any problems in publishing.)

Tags:
WBB, WBB5, WBB6, Breakfast recipes, Food blog event

Labels: WBB