Pumpkin is quite a staple in my parent's home, where it is used generously in Kootu (Gravied vegetables), Sambhar, Thalagam etc. Not being too fond of the vegetables on the sweeter side, pumpkin is usually not on my shopping list. Not unless I want to make Dhansak or Bisi Bele Huli Anna.
The pumpkin used in this is the golden variety which is more nutritious and anti-oxidant rich compared to the white pumpkin. White pumpkin is used in Avial- which is one of my favourites.
Parsis are members of the Zoroastrian community that migrated from Persia to India over 1000 years ago to escape religious persecution. Most of them concentrated in the state of Gujarat, adapting the local language and culture as their own. Their cuisine is a unique blend of the vegetarian Gujarati food and the meaty cuisine of Persia. Dhansak is one of their much-loved dishes, which is usually made with lentils, vegetables and meat into a spicy curry that is had with brown rice.
While the meat loving Parsis will label 'Vegetarian Dhansak' an abomination, vegetarian that I am, my dhansak is meatless but any meat eater would confirm that it is as tasty :) (Yeah, I hope)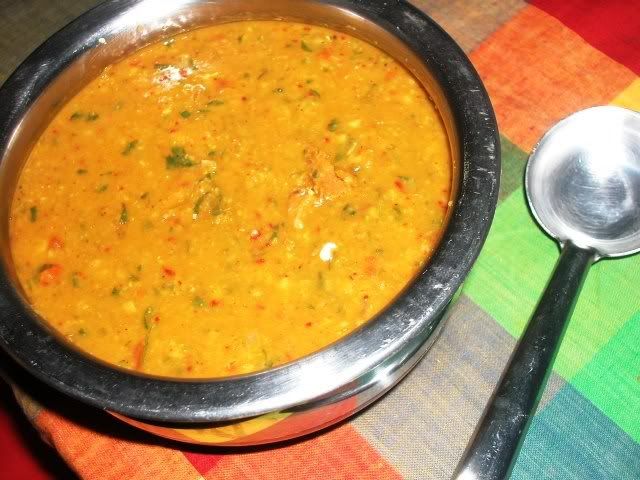 Dhansak is ready!
The list of ingredients is a bit lengthy, but except for a little prep work, you will find most of the stuff in a regular Indian kitchen.
There are three parts to this recipe.
-Cooking the lentils
-Preparing the masala
-Cleaning and cutting the vegetables
Lentils required:
1/3 cup tur dal
1/3 cup masoor dal
1/3 cup moong dal
Mix the dals. Wash them thoroughly 3-4 times. Keep aside.
Pumpkin:
Use the golden variety. You will need around 200 gms of the same. Remove the skin with a heavy knife, scrape out the seeds. Chop the pumpkin into 1" cubes. Don't cut it any smaller, or they will get totally mashed with the dal on pressure cooking.
Pressue cook the dals with the pumpkin pieces for around 3 whistles.
Meanwhile prepare the masala and vegetables.
For dhansak masala:
6 cloves garlic
1" piece fresh ginger
6-7 red chillies
1 tsp cumin seeds
1 tsp coriander seeds
1" cinnamon stick
2 green cardamoms
4 pepper corns
Saute the above ingredients other than ginger and garlic, on a low flame until fragrant, about a minute or two. Cool for a few minutes and grind to a fine paste along with ginger-garlic. You can add around 1/4 cup of water to assist in grinding. Keep the masala aside.
Vegetables:
2 medium onions-sliced
2 tomatoes-chopped
1 small bunch methi (fenugreek) leaves- cleaned and chopped finely to make a loosely packed cup
Bringing together the masala and vegetables
Method:
Heat 2 Tbsp oil in a large pan. Fry the onion slices with a few grains of sugar (less than 1/8th tsp). Sugar makes the onions brown faster. Saute for 3-4 minutes till nicely browned.
Add the masala paste and saute for 3-4 minutes, until it emits a rich aroma.
Put in the chopped tomatoes, chopped fenugreek leaves. Saute for 3-4 minutes, until tomatoes are cooked and leaves have wilted.
At this stage, add the boiled dals and pumpkin. Add around 2 tsp of salt. Stir well and check for spices and salt. In case the tomatoes aren't sour enough, you can add a teaspoon of tamarind pulp.
Serve hot with plain rice or traditional Parsi Brown Rice.
Lap it up with rice
This recipe makes enough dhansak to serve 6 people. Even if you are just 2 at home, it is worth making and saving half of it for later. It tastes better after the flavours have sunk in for a day or so. It will keep for 2-3 days in the refrigerator, kept in a tightly sealed box.
The day I'd made this, we had a friend come in for dinner. He remarked that he was getting to eat dhansak after ages as the authentic recipe isn't really vegetarian and he was a vegetarian himself. In case you are a person who'd love to make the real meaty version, check out the link below for Authentic Parsi cuisine.
You will find many delicious Parsi Recipes here. Eggs, Potatoes and meat are their favourites though!
This is my submission for the FMR - Pumpkin hosted by multi-talented Meeta of What's for lunch honey?
Labels: Around the world, Cuisine: Indian, Greens, Lentils and beans, Nutrition: Protein rich, Vegetable, Vegetable: Pumpkin