This is my entry for JFI-Milk hosted by Vineela.

I've grown up with Payasam. Anyone's birthday, any auspicious day, a feel-good day- Payasam was the only common dessert at home. My favourite was always the 'Semiya Payasam' which is Vineela's own entry to the event. Payasam with rice was never one of my favoured ones. I wouldn't even second glance it.

We call it Payasam, they call it rice pudding. Rice pudding surely sounds much more acceptable to me only for the reason that it'll allow me to put in my own ingredients, use my usual crazy creative methods. These methods are no good to be messing around with traditional and respected recipes like 'payasam'. Imagine turning the Gods against me if I added some untoward ingredients in it !!!

So Rum and Raisin Rice pudding it is...
Simple, rich and flavourful, serve it in a beautiful bowl and your guests will remember it for a long time...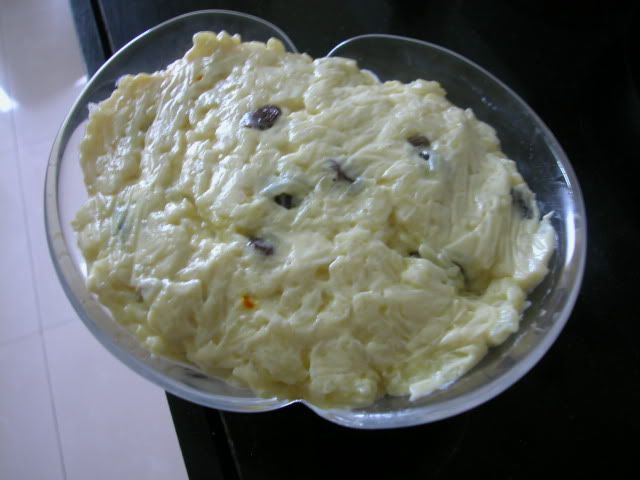 Rum and raisin rice pudding




(Adapted from Ina Garten's recipe)





Ingredients:



2 cups whole milk
1 cup condensed milk (sweetened)

1/3 rd cup basmati rice-washed and soaked in warm water
2 Tbsp sugar
1 egg beaten
1/2 tsp vanilla extract
1/4 tsp salt

A few saffron strands for colour

1/4 cup raisins
4 tbsp Dark Rum like Bacardi Reserva (I'm down to the end of the bottle just making desserts)



Method:



Soak the raisins in the rum for a few hours

Combine rice and salt, and cook the rice in one cup of milk with saffron, by simmering for 7-8 min till most of the milk is absorbed. Or just pressure cook it in milk for one whistle till half-cooked.

In the cooked rice, stir in the remaining milk, half the condensed milk ,sugar and boil till rice is very well cooked. This will take another 10-15 minutes.

Stir in the beaten egg rapidly. It's ok if it curdles a bit, it will mix in well.

Take the pan off the heat, add remaining condensed milk, vanilla extract, raisins soaked in rum. Stir well.

Pour into a bowl and cover it with a piece of plastic wrap directly on top of pudding to prevent a layer from forming on top.

Serve chilled with a scoop of vanilla ice-cream.




Notes:


The main tastes are those of rum and a mild sweet vanilla flavour. You can add sugar depending on the sweetness of condensed milk.

The original recipe asked for 3 cups of half and half which I substituted with whole and condensed milk, therefore reduced the sugar. If you use half and half, use 1/4 cup of sugar.

Also the rice was initially cooked in water, while I cooked it in milk. I hate adding water to rich desserts.

Tags:

Dessert, Milk, Sweet, Pudding, Rice pudding, Liquor desserts

Labels: Desserts