I'll be sending this to....




Would you believe it if I told you how difficult it is to find picture post-cards in Bombay? Half the shop-keepers didn't understand what it meant, and the others looked at me as if I had gone mad !
One guy asked me if i wanted a 'Picture of a postcard' and the other said, you are the first person who has asked me for this since I've opened my shop. I had almost given up hope when my dad went looking around for this one, he finally got me two cards that depict Bombay's important landmarks.
The other hurdle I faced was due to my own forgetfulness. I was at my mom's place whole of last week ( celebrating Varalakshmi nombu and devouring kozhakattais and vadais ), i had forgotten to carry the cord that connects the cam to the laptop. Hence couldn't post a pic of my card...Boo..hooo

Meeta told me I could post it when i reached my own place. And here's it..I'm sending to A...friend hahaha

It's a picture of Flora Fountain. Completed in 1864, the Flora Fountain was erected by the Agri-Horticultural society of Western India out of a donation by Cursetjee Fardoonjee Parekh. Built in imported Portland stone, but now defaced with white oil paint, it was originally meant to be named after Sir Bartle Frere, then governor of Bombay. However, the name was changed before the fountain was unveiled. It stood in the center of the town as it then was. Now this area is the heart of the business district of the town.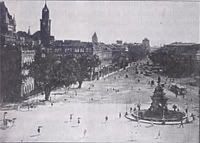 Flora Fountain-Then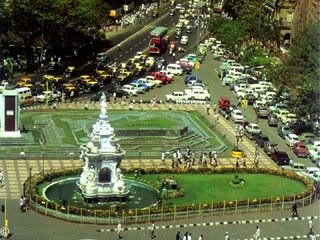 Flora Fountain-Now
This is what Mumbainet has to say about this structure-

"This is the very heart of Mumbai, circumscribed by stately colonial buildings that stand like proud old sentinels of a bygone era. Flora is the Roman Goddess of Flowers, her pretty alabaster face continually assaulted by grime and pollution. Next to her are a pair of torch bearing stone patriots that rise from the Martyrs Memorial nearby. Flora Fountain is now called Hutatma Chowk or Martyr's Square to honour those who died in the tumultuous birth of Maharashtra State. All around the square sit Mumbai's infamous vendors selling just about everything under the blazing tropical sun -- from cheap nylon saris and ballpoint pens to herbal remedies and sexshop gewgaws. Tooting horns and traffic complete the chaotic picture, but through it all Flora manages to retain her serene composure."