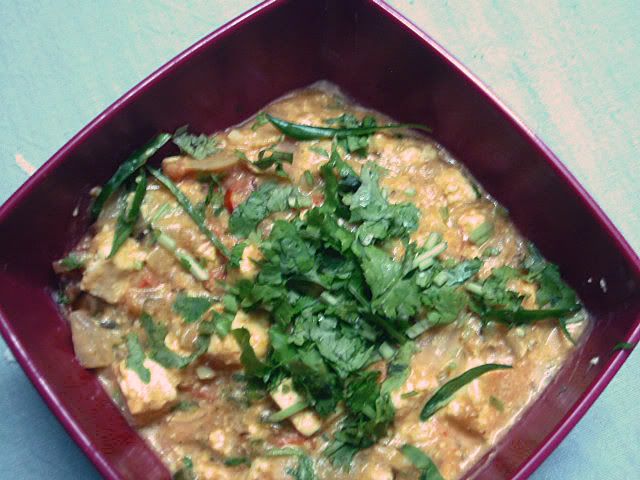 Chilli marinated cottage cheese in gravy


No Indian kitchen survives without it's stock of fresh green chillies and dried red chilles. In fact most savoury dishes definitely have either one of these chillies in them. While I like my food with a lot of flavour, I can't tolerate too much heat. Besides, crying while eating is not my idea of fun.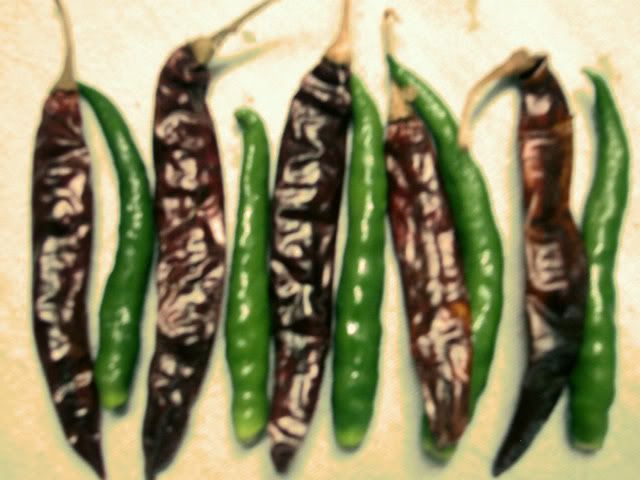 Red and green chillies
When I read about the 'hot' event at Barbara's- I was in a dilemma. I had this block of fresh homemade cottage cheese / paneer and I had my regular stock of green and red chillies. So it was decided to use the chillies and a few other ingredients to marinade the cheese and then dunk the flavour-rich cheese in a not-so-hot gravy.
The recipe name that first struck me was 'Red Hot Chilli Paneer'. But the end result was not-quite-red and not-quite-so-hot. Hence the title-Chilli marinated paneer in gravy.
Cottage cheese draining in the colander

Making your own cottage cheese-

Bring one Litre of milk (atleast 2%) to a good boil. Keep at a simmer. Add 1/2 cup yogurt/ curds to the simmering milk and stir for 3-4 minutes. This will completely separate out the milk into cheese and whey. Filter using a muslin cloth, let it drain for five minutes and then place it with the muslin on a colander for excess water to drain out. Don't squeeze / press out the water. You will get upto 200-250 gms of cottage cheese.
Personally, I like this method best. You can use either lemon juice / vinegar for curdling the milk, but it leaves a sour aftertaste and the cheese isn't as soft. Don't throw away the whey (drained liquid ). You can use some in gravy and use the rest to bind the chapati dough. It is very rich nutritionally.
If you are short on time or patience, by all means use the store bought paneer. In Mumbai, the Amul pre-cut paneer cubes are a pretty good option.
Marinated cottage cheese
Preparing the marinade-
1/2 cup curds / yogurt
2 crushed red chillies
1 finely chopped green chilli
2-3 large pods of garlic
pinch of turmeric powder
1 tsp curry powder
1/2 tsp salt
Mix the above ingredients in a bowl. Cut the cottage cheese into 1/2 inch pieces and coat it with the marinade. Keep aside for one hour.

For the gravy-
1 large onion-very thinly sliced
2 medium sized tomatoes
1 green bell pepper / capsicum (optional)
Aromatics-1/2 tsp cumin seeds, small stick of cinnamon, few cloves, 1 green cardamom and 2 bay leaves, pinch of turmeric powder
2 T ghee / vegetable oil
1 T gram flour

Heat the oil in a pan. Splutter the aromatics. Fry the onions for 4-5 minutes till golden brown. Add the sliced tomatoes and capsicum. Let it cook on low flame for another 3-4 minutes, till the oil separates out. Add the gram flour. Fry it along with the cooked paste for a minute or so. Add some of the whey to the gravy, add the marinated paneer and simmer for 2-3 minutes. The flavours of the marinade and that of the gravy will blend and release aromas. Check for salt and take off the flame.

Remove into a bowl and garnish with coriander leaves.

Serve hot with phulkas, bread or steamed rice with spluttered cumin seeds.

Note:
~You might have noticed that I haven't added any chillies / chilli powder to the gravy. The chillies in the marinade are enough to carry the hot flavour into the dish- unless you like a really spicy curry
~You can reduce the quantity of oil used. I would usually use just one tsp of oil, but just felt that this recipe needs that little extra fat for a silky texture.
~The yogurt in the marinate totally mellows down the heat from the chillies while allowing the other bold flavours to come through.
Recipe, Indian curry, Paneer, Cottage cheese, Chilli, Whey, Spice is right, Aromatics, Marinade
-----------------

Check out:
My other blog for news and views on the Bombay blasts and Sumanth's view on Mumbai 7/11 and thereafter.
-----------------
Do check out the round up of Weekend Breakfast Blogging #1 on 15th July.