It is a common notion, that more the oil more the taste, and vice versa. This is one thing that totally defies the notion. Sukha Bhel !
Bhel was the ultimate treat in school days. There used to be this bhel wala with his cart and a glass box mounted on top of the cart. He used to serve bhel puri, sev puri and pani puri like any other bhel wala. This 'bhaiyya' used to stand right opposite my balcony in Wadala, and that wouldn't make life easier for me. My grandparents wouldn't allow me to eat street food and it required many many days of excellent behaviour to convince them to let me indulge in that tangy treat.
In the glass box, there used to be stacks of fresh kurmura (puffed rice), another stack of sev, 3 steel dabbas filled with green chutney, sweet tamarind chutney and the last one with red hot spicy chutney. The walls of the box would be lined with tomatoes, boiled potatoes and in the mango season-raw mangoes. Onions and coriander, finely chopped would fill another big bowl. I would always go for the medium bhel as I wouldn't like to sweat it out with the spicy red chutney.


It was always a delight to watch him throw the puffed rice, peanuts, green and tamarind chutney, finely chopped tomatoes, onions, boiled potatoes, kairi (raw mango) and his special masala into a big vessel, swish it around and then slide it into a big paper cone. Sev, more onions, coriander, peanuts would go on the top with a final squeeze of lime and a couple of flat puris which are edible spoons. By this time, the salivary glands would be more than reasonably stimulated. All this for a sum of Rs.3.


Guys, guys, please don't make wrong calculations about my age with this. It wasn't THAT long ago, honestly! Just some 15 years ago and then inflation took it's toll. The same bhel would cost anywhere from Rs.10-30 now, depending on the area. You will find umpteen bhel puri stalls lining the beaches in Mumbai, that could be one of the reasons that the beaches here are not-so-clean.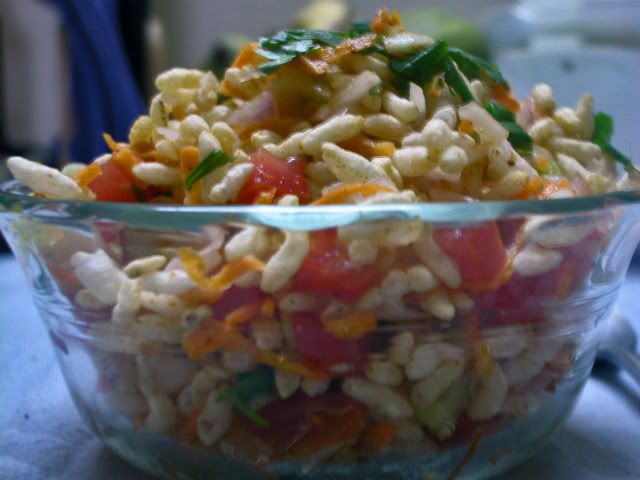 Snack away...



Cut to present...
At home, I'd rather make a simple, healthier version of this childhood treat. It's good to keep a bag of puffed rice handy, always makes a great snack. The puffed rice at home was a few months old and had lost it's crispiness. That's why I had to dry roast it over a low flame for 5 minutes to make them crisp and fresh. If you have crisp kurmura, you can omit this.



Ingredients-
2 cups puffed rice-you can roast this with a pinch of turmeric if you like
1 onion-finely chopped
1 firm tomato-finely chopped-don't use the pulp
1 cucumber-skin removed and finely diced
1 small carrot- coarsely grated
1/4 tsp red chilli powder
1/2 tsp salt
1/4 tsp chat masala / pani puri masala
1 T finely chopped raw mango (optional)
1 T finely chopped cilantro (coriander)
Half a lime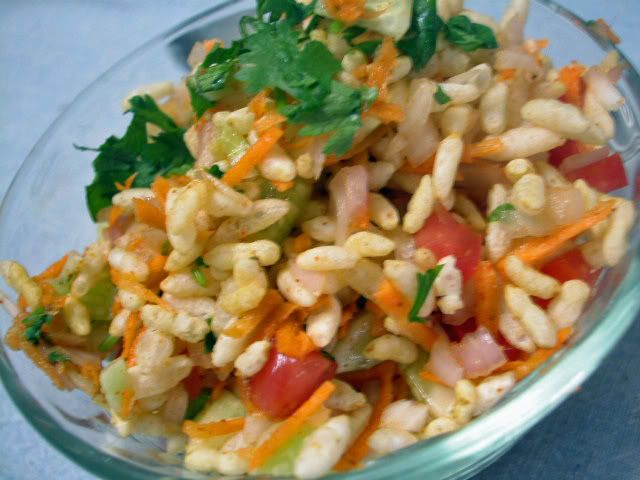 Directions
In a big mixing bowl, add all of the last but two ingredients. Mix lightly. Remove onto serving bowls and garnish with coriander and a squeeze of lime juice. Eat IMMEDIATELY. This serves 2 people. If you want to serve after a while, keep the puffed rice in a sealed container. keep the vegetable mix aside and mix just before serving.
Notes-
-Your kids will love this, you can omit the chilli powder though

-This is one fun snack to make with your kids, you can give them all the chopped stuff and ask them to assemble
-Weight watchers- this is one of the few blessings we have. Low cal, filling, full of flavour and crunch ! Remember the more veggies you add, the lower in gets in carbs too and healthier for you too.
-You can also add well-drained boiled corn to this.
Check out:
Cate's version of bhel
here
This interesting post on bhel puri by Meera
here
Tags:
Labels: Me to you, Personal, Snack time