Sundays are the perfect time to indulge in traditional lunches followed by an extended afternoon siesta. Rice, Sambhar, curry with accompaniments like appalam, vadam, pickle and so on....This weekend, my in-laws are here from Chennai and it's another reason to enjoy our traditional cuisine.
I absolutely love this thing we call paruppu-usili. It's a lentil crumble that's added to vegetables like cluster beans or French Beans or carrots etc. It not only adds body to a vegetable like beans but also a great flavour.
The best combination is a paruppu-usili vegetable with Mor Kozhambu-which is a Stew kind of curry made with butter-milk. The recipe for that I shall write about some other time, but the picture is here for you to drool over :)
Cluster beans-Usili
Mor Kozhambu

The lentils are soaked, ground with spices, steamed and then sauted and mixed with the cooked veggies. It's a delight to make as much as it is to eat. It's the best thing that I can submit for Jihva for Dal.

Ingredients:
1/2 cup tur dal
Handful chana dal (split bengal gram dal)
2 red chillies
1 green chilli
pinch of asafoetida
Pinch of turmeric powder

2 cups chopped cluster beans
2 T oil

1/2 tsp mustard seeds
2 red chillies
Salt to taste

Method:

1. Wash and soak the dals for 3-4 hours. If you were to make this for lunch, then you can soak it first thing in the morning.
2. Remove the ends of the cluster beans (called kotthavarangai in Tamil) and any other fibrous parts. Chop them into small pieces. Cook them in a cup of water to which turmeric and salt has been added. This is take 8-10 minutes depending on how tender the beans are. Try and take only as much water as is needed to cook the beans so that you don't have to throw away any water in the end. Keep this aside.
Cooked Cluster beans
3.Drain the dals well. Take the dals, 2 red chillies and one green chilli with some sea salt, a pinch of turmeric and asafoetida in a mixer. Rough grind the above. Don't make too smooth a paste.
4.In a steamer / cooker without whistle steam the above mixture for about 10 minutes. Once cooled, crumble it well with your hands.
5.In a pan, heat 2 T of oil. Crackle the mustard seeds in the oil, add the 2 chillies. Then, add the crumbled usili and saute till it turns golden brown. This is the paruppu-usili. This will take around over 5 minutes.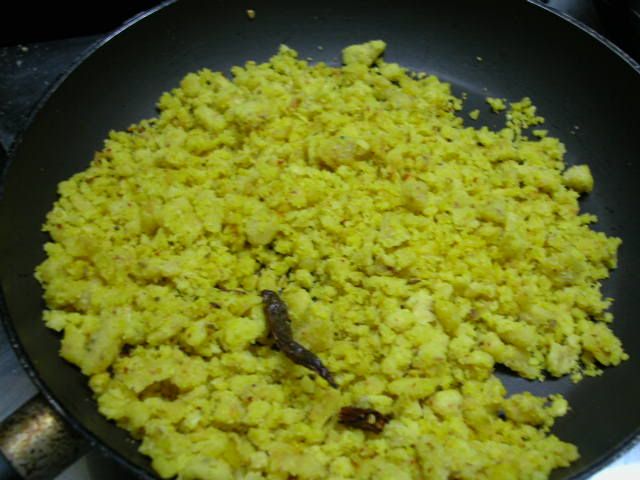 Sauted Usili
6. Add the cooked beans to this and saute for another 2-3 minutes. You may add a tsp of curry powder to this for added taste. But it tastes great even without it.
Note:
You can similarly make carrot-usili/ French Beans Usili.
If you don't mind using a little more oil, you can omit Step 4-ie. Steaming and add the ground mixture in 5-6 Tbsp of oil and keep sauteing and breaking up with the spatula until it gets cooked and crispy.