Green cardamom is a spice that mainly grows in India and Sri Lanka, and is widely used in Indian cuisine, in most traditional desserts. The black cardamom that is slightly bigger in size, is used to add fragrance to rice dishes like Pulao and to curries.
In South Indian cuisine, cardamom is used as a flavouring agent in Payasam, Kesari, Halwa, Ladoos and many more. However, it is not used in any savoury dishes, atleast not to my knowledge. That's how after much thinking on what I must submit for Barbara's Spice is Right-II, I came to the decision of trying out this amazingly fragrant spice in a savoury, almost spicy recipe.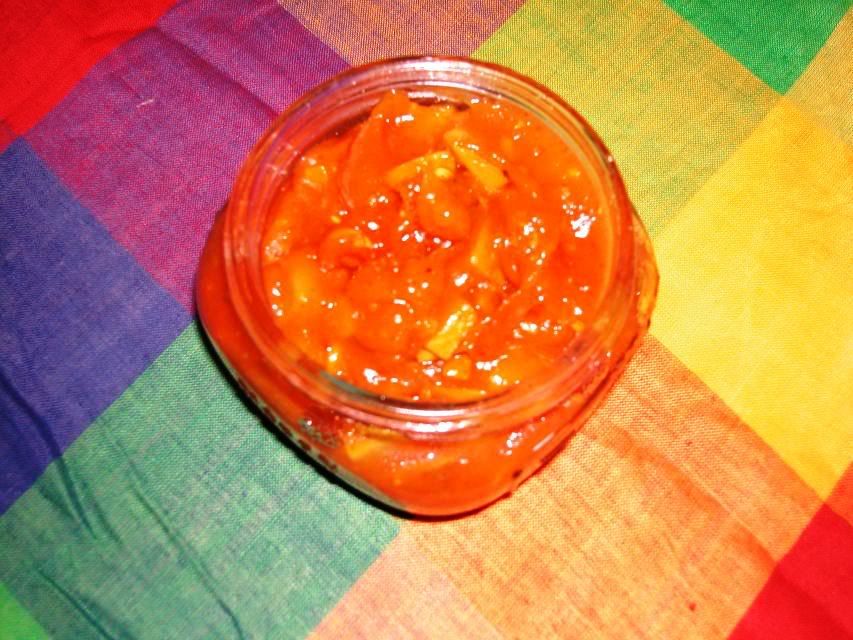 Spicy Mango Cardamom chutney

Spicy Cardamom Mango chutney

2 medium sized firm raw mangoes- chopped into small pieces
4 medium sized pods green cardamom-peeled and roughly powdered
2 T white vinegar
1 pod garlic-peeled and chopped
1 tsp grated fresh ginger root
1 1/2 T red chilli powder
1/2 T crushed coriander seeds
1 T demerara sugar / jaggery
1 tsp sea salt
1/2 cup water

Method:

Put the raw mango pieces, vinegar and water in a saucepan. Cook on low heat for 5-7 minutes until mangoes are softened. Stir in the remaining ingredients. Simmer for 10-15 minutes with constant stirring until the mixture is syrupy. Let it cool and ladle into a glass jar.

This is tangy and spicy and the cardamom pods lend to this chutney a wonderful aroma that we don't generally associate with spicy pickles.

This chutney is a good surprise for the tastebuds.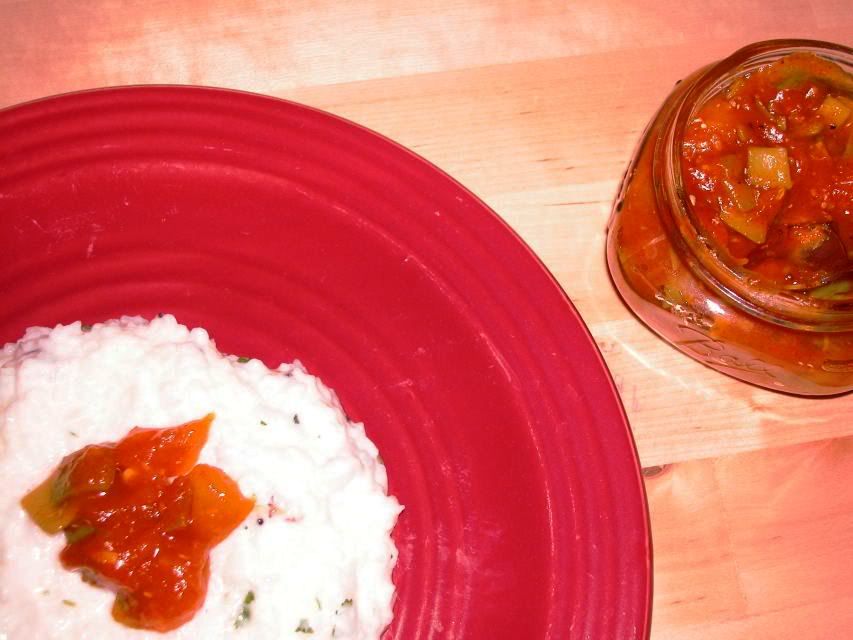 Mango cardamom chutney served on chilled curd rice
Note:

Serve as an accompaniment with parathas / curd rice / plain chapathis. This is an oil-free pickle with healthful ingredients.

The original recipe from 'best ever curry cookbook' by Mridula Baljekar is a sweet chutney that uses 2/3rd cup of muscavado sugar. In case you like a sweet and sour chutney, by all means add the sugar!
My best loved used for cardamom pods is to make an aromatic cup of masala chai.
In case you do try out this chutney, do let me know how you liked the flavours.
This is my entry for The Spice is Right II–"Sweet or Savory?" @ Tigers and strawberries