I was just thinking to myself- what is the difference between a recipe I find in a blog and a recipe that I come across in some general food site?The answers were very clear. When I see it in a blog, I know for sure, there is someone just like me, who has tried and tested it and in case I face any problems with the recipe, there is always someone to fallback on. The great degree of interaction and support is what makes it so different from just another food website.

Each day I come across many inspiring recipes. Some I just admire from a distance, probably because I'm vegetarian and the recipe is not. Some, I wish I could make - but the ingredients' availability factor is a setback. Some I actually end up making ( read that as quite a few ).

Two such recipes that I made last week (with a little modification ofcourse ) were inspired from two wonderful food blogs that I came across recently.

I loved both the blogs for their simplicity and clarity of instructions. If a written word can encourage and inspire a person in India to cook French food, then isn't that something super?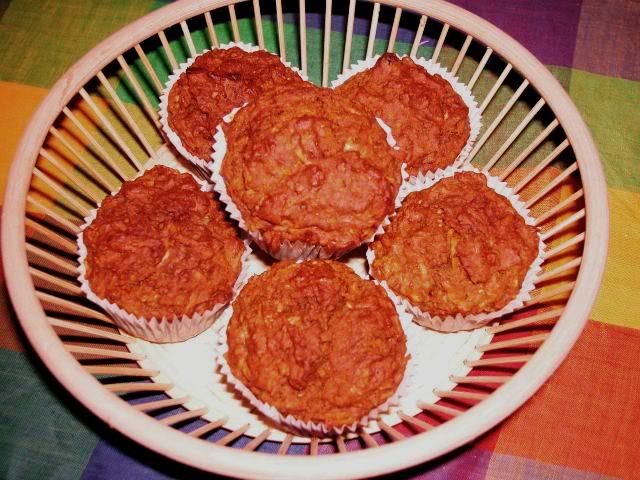 Morning glory Muffins- my version
1 cup whole wheat flour-sifted
1 cup all purpose flour-sifted
1/3 cup sugar
½ cup Splenda / Zero cook and bake
2 tsp baking soda
2 tsp cinnamon
½ tsp salt
2 cups shredded carrots
1 large apple shredded
3 T raisins
½ cup grated coconut

2 eggs
2 very ripe mashed bananas
3 T vegetable oil
½ T vanilla extract
Preheat oven at 175 C
Mix ingredients one through coconut in a large bowl.
In a medium bowl, whisk the eggs, mashed bananas, vegetable oil and vanilla extract together till well blended.
Pour the wet ingredients into the dry- and stir to combine well. Don't stir too much though.
Pour mixture into lined / sprayed muffin tray. Bake for 25-30 min or until a tester comes out clean.
Note:
This is all the good stuff you would like to have in your breakfast- Wheat flour, veggies, fruits and eggs.

Makes 12 medium sized muffins. These freeze well too. So you could make a double batch, store in Ziploc, throw them into the freezer and microwave them for a minute when you want breakfast on the go or in a jiffy.